A brief introduction of wheat germ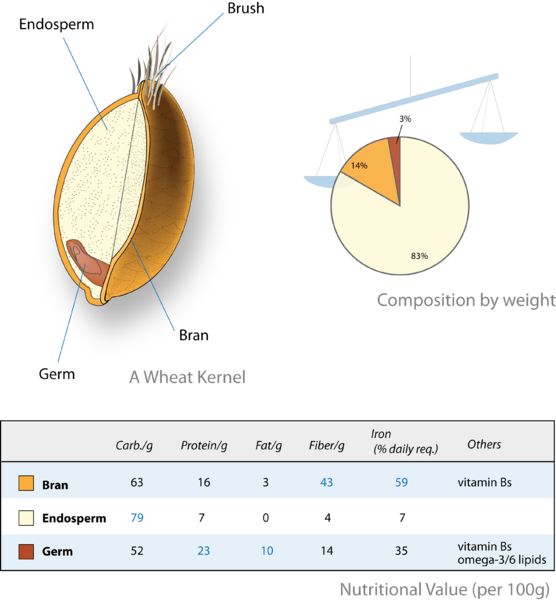 Wheat germ
Wheat germ or wheatgerm is a concentrated source of several essential nutrients including Vitamin E, folate (folic acid), phosphorus, thiamin, zinc and magnesium, as well as essential fatty acids and fatty alcohols. It is a good source of fiber. White bread is made using flour that has had the germ and bran removed.Wheat germ can be added to protein shakes, casseroles, muffins, pancakes,cereals, yogurt, smoothies, cookies, and other goods.Wheat germ can become rancid if not properly stored in a refrigerator or freezer, and away from sunlight.Some manufacturers prevent rancidity by storing wheat germ in vacuum sealed glass containers.
Wheat germ oil is extracted from the germ of the wheat kernel, which makes up only 2.5% by weight of the kernel Wheat germ oil is particularly high in octacosanol - a 28-carbon long-chain saturated primary alcohol found in a number of different vegetable waxes.Octacosanol has been studied as an exercise- and physical performance-enhancing agent. Very long chain fatty alcohols obtained from plant waxes and beeswax have been reported to lower plasma cholesterol in humans.Wheat germ oil is also very high in vitamin E (255 mg/100g), and has the highest content of vitamin E of any food that has not undergone prior preparation or vitamin fortification.As a cooking oil, wheat germ oil is strongly flavored, expensive and easily perishable.Wheat germ oil contains the following fatty acids:
| | |
| --- | --- |
| Component | g/100g |
| Linoleic acid (omega-6) | 55 |
| Palmitic acid | 16 |
| Oleic acid | 14 |
| Linolenic acid (omega-3) | 7 |
Other uses of wheat germ oil have also been explored, including increasing blood flow and reaction time.Further uses include treatment of certain skin conditions such as scarring and inflammation.