Soybean oil pretreatment machine
Soybean oil pretreatment is the first section and the basic part in soybean oil processing process, because it decides the final soybean oil yield rate. In soybean oil processing plant, we normally use soybean oil pretreatment machine first, and then use solvent extraction method to extract soybean oil further. Because of the low oil content of soybean oil -- less than 20%, if you use the pressing method to get soybean oil, there will be about 6-8% oil residue inside pressed cake.
The machines used in soybean oil processing plant are as following picture shows.

Soybean oil pretreatment machines in soybean oil processing plant
In above picture, each soybean oil pretreatment machine has its own function in the soybean oil production line. The following is the detailed function of each preatment macine.
1. Cleaning machine:
Cleaning machine includes three types, magnetic drum, cleaning sieve and destoner machine. The first machine is to move the iron in the soybean, because the iron will harmful to the following machines. After that is the cleaning sieve, to remove the big impurities in the soybean. And last destoner machine is to clean the stone which has same volume with soybean.
2. Crushing machine:
The purpose of crushing machine is to get the small pellet soybeans which is more easy to extract oil. After crushing, the superficial area of soybean is increased and this can improve the effect of softening.
3. Softening machine:
The main function of softening machine is to adjust the water and temperature of soybean. This is also the most important step in soybean oil processing plant.
4. Flaking machine:
Flaking machine can make soybean into the flakiness about 0.5mm. And the flaking roller helps to broke the cell of soybeans, and then it is easier to extract oil.
5. Cooking machine:
This is the last soybean oil pretreatment machine. It helps to adjust the water content of the materialsoybean to 6-5kg/cm³, so as to improve the oil yield rate.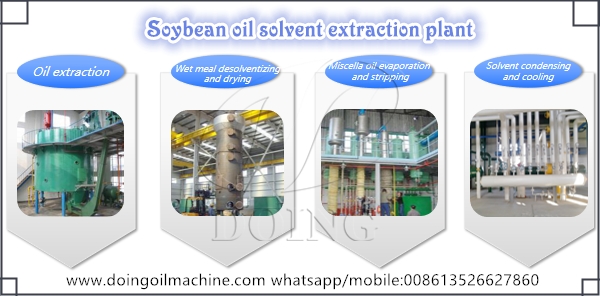 Soybean oil solvent extraction plant
This is the machines used in soybean oil solvent extraction plant. You can click to read more about it.
Features of DOING Brand soybean oil processing machines:
1. Stable performance
2. High oil yield rate
3. Mature technology
4. Customized 30-1000 tons per day capacity
5. Best service: designing, manufacturing, installation, commissioning and training your workers.
Doing Company has rich experience in installing soybean oil processing plant. Welcome to leave a message to inquire about the installation of a soybean oil processing plant.