Rice bran expander extruder machine
General Description of rice bran expander extruder machine :
The rice bran Expander is applicable for the extruding of low oil content crops such as rice bran and soybean or pressed cake before solvent extraction,rice bran expander is an ideal production process for the purpose of reducing equipment investment, raising production, reducing energy consumption and improving product quality of oil plants worldwide. There are many kinds of puffing machine, can be divided into soybean oil puffing machine, rice bran oil puffing machine, high oil pre-press oil puffing machine, and tissue proteins oil puffing machine and so on. According to different treatment for different oil seeds. In addition to puffing process, different kinds of oil seeds may also need cooking, softening, flaking , drying and other processes to get the most oil yield and meal of better quality.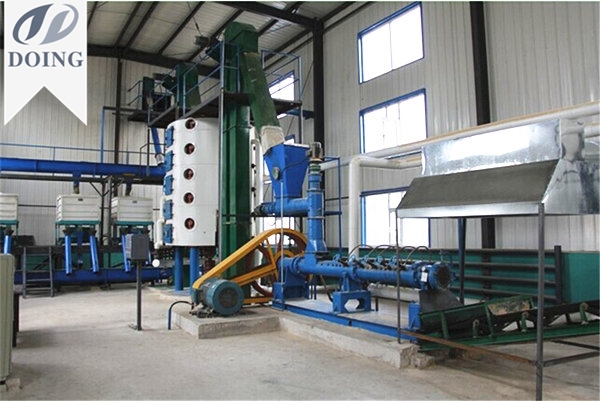 Rice bran pretreatment and pressing workshop
Why Puffing Before Solvent Extraction?
1. Increase the capacity of oil extractor. After extruding, the volume-weight is increased by 20%~30%, which greatly raises the capacity of extractor.
2. Increases the efficiency of extraction plant, shorten the extraction time.
3.Lower solvent content of wet meal, reducing the load of wet meal desolventizing.
4. Higher concentration of miscella, reducing the load of evaporation.
5.Improve the quality of crude oil after extraction.
6. Increase the production of flaking equipment. The requirement of oil seed extruder is no high on flake thickness, which means the thickness of flaking is properly relaxed, therefore to increase the output of the flaking machine.
7.Reduce the energy consumption in the solvent extraction.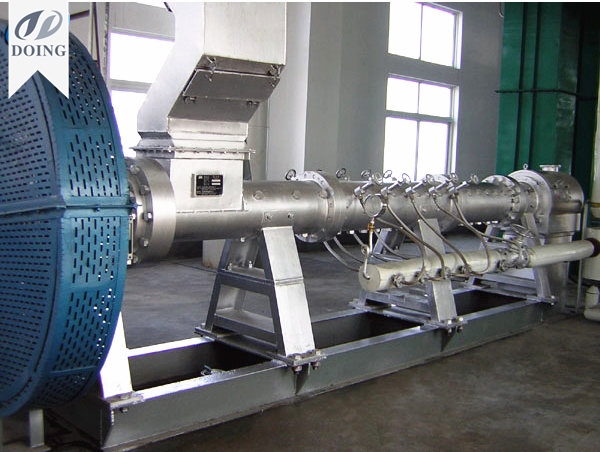 Rice bran expander extruder machine in customer factory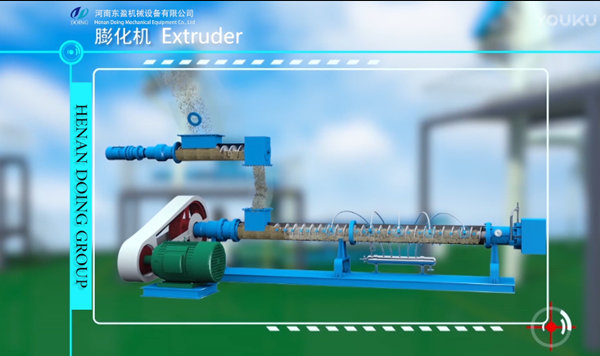 3D animation of rice bran expander extruder machine
Main Technical Parameters of the Oil Seeds Expander / Extruder
| | |
| --- | --- |
| Raw Materials | Soybean, Rice Bran, Rapeseed |
| Thickness of Flaking | 0.35~0.45mm |
| Moisture Content before Extruding | 10~11% |
| Moisture Content after Extruding | 12~13% |
| Discharge Temperature | 105~110℃ |
| Steam Pressure | 0.65~0.75Mpa |
| Steam Temperature | 174.5℃ |
DY series rice bran expander extruder machine technical parameters:
| | | | | | |
| --- | --- | --- | --- | --- | --- |
| Technical specifications | Capacity(t/d) | Screw Diameter (mm) | Steam pressure (Mpa) | Power of Main Motor (KW) | Discharge Temperature(℃) |
| DYP16 Expander | 30~80 | 1:1.2~1.4 | 0.6~0.8 | 37/55 | 100~120 |
| DYP20 Rice Bran Expander | 50~200 | 1:1.2~1.4 | 0.6~0.8 | 55/75 | 100~120 |
| DYP25 Rice Bran Expander | 150~400 | 1:1.2~1.4 | 0.6~0.8 | 75/90 | 100~120 |
| DYP30 Rice Bran Expander | 300~600 | 1:1.2~1.4 | 0.6~0.8 | 90/110 | 100~120 |
| DYP35 Rice Bran Expander | 400~900 | 1:1.2~1.4 | 0.6~0.8 | 110/132 | 100~120 |

Working principle of rice bran expander:
The oil material is squeezed, heated, sheared and rubbed in the extruding cavity of the machine, and mixed,Steamed, gelatinized by injected direct steam, the pressure in extruding cavity will reach 1.4-4.0 MPa, the temperature reachs 110-120º C, at the die head outlet suddenly reduce to normal pressure and temperature, the steam vaporizes abruptly, oil in seed cell run outside then, and extruded material with numberless minus holes and cracks got. And because of such extruding effects, the permeating of solvent through cells and permeating of oil out from cells both become easier, so the extraction and desolventizing process both get more efficient, the unit weight of material is raised about 30%, so the production capacity of extractor is also raised. The stay period of material in the extruding machine is less than 30 seconds, so the damage of the content of material is little, which helps the protection of the quality of material.

We welcome your further inquiry, expecting to provide you with a complete solution.For different oil seeds, processing equipments change. We can help you design whole vegetable oil production line according to your material and final product. If you want to know more about rice bran expander extruder machine , please do not hesitate to contact us.