Extractor of oil solvent extraction plant
Oil solvent extraction plant can be widely used to all oil seeds. Extractor is the center of oil solvent extraction plant, and solvent extracts oil from pretreated or pre-pressed material in extractor. There are two types extractors usually used in oil solvent extraction plant, rotocel extractor and loop type extractor.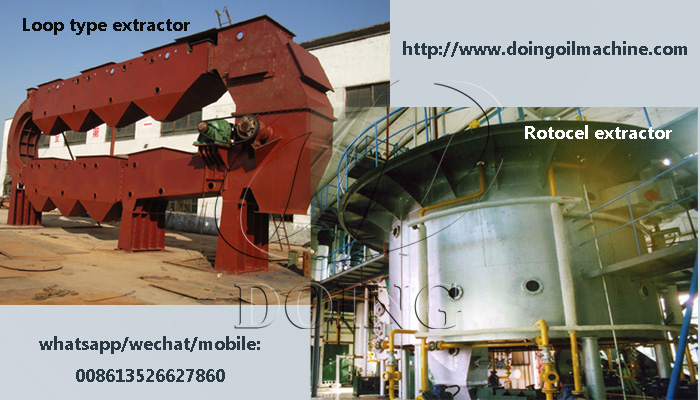 Rotocel extractor and loop type extractor
Brief introduction of rotocel extractor
1. The rotocel extractor has the advantages of simple structure, reliable performance, low power consumption, high mixed oil concentration, good self-filtering effect of the fixed material layer, and good extracting effect.
2. Rotocel extractor transmits with racks, specialized balanced design of rotors runs placidly at low speed, and consumes low power.
3. The feeding system automatically adjusts the speed of the air collecting device and the main screen according to the feeding amount, which generates negative pressure in the rotocel extractor to reduce solvent leakage.
4. Mixed oil circulation decreases fresh solvent consumption, reduces oil residue in the meal, improves concentration of mixed oil, and also saves energy by reducing evaporation.
5. High bed depth creates immersion extraction and reduces meal content in mixed oil, which improves crude oil quality and reduces evaporation amount.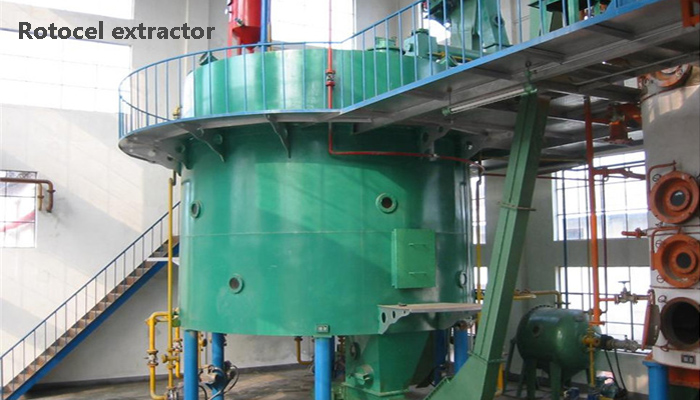 Rotocel extractor in oil slovent extraction plant
Brief introduction of loop type extractor
1. Loop type extractor transmits with chains with low rotating speed and low power consumption. Latest structure design runs placidly without noise.
2. Loading system automatically adjusts wind collecting device and revolving speed of main engine according to loading amount, creates negative pressure in loop type extractor, and reduces solvent leak.
3. Through the mixed oil circulation, the solvent consumption is reduced and the oil extraction rate is increased, which saves energy.
4. Low bed depth creates percolation extraction. The material layer of the loop type extractor is turned over twice during the entire moving extracting process, which is beneficial to the uniform effect of the solvent and the mixed oil on the material layer.
5. Loop type extractor can be transported in sections, and easy to install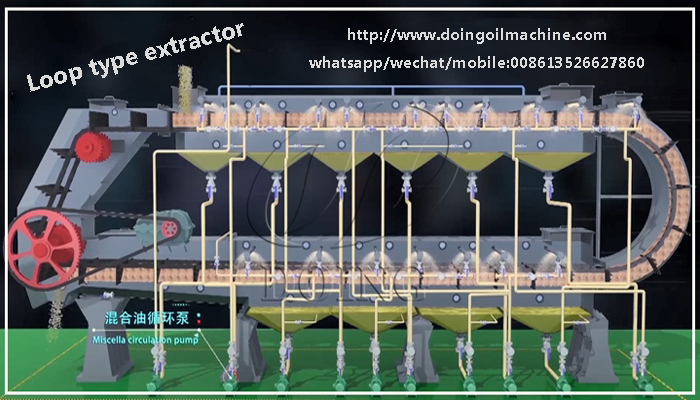 3D image of loop type extractor
In general, rotocel extractor is suitable for factories with a processing capacity of 30-300 tons per day, while the loop type extractor is more suitable for factories with a processing capacity of more than 500 tons. Or you can tell us your needs, then our Doing company's engineers will recommend the suitable one to you based on the real condition.