Rice bran oil refinery machine
Rice bran oil refinery machine is an essential part for a complete rice bran oil production line because after extracting, there are still some impurities which need to be removed such as phospholipids, FFA, pigment, odor, etc in the crude rice bran oil. Henan Doing Company can provide whole set of rice bran oil refinery machine for 1-600 tons per day.
The complete set of large scale rice bran oil refinery machine includes washing & degumming system, refining deacidification system, decolorization system, physical deacidification and deodorization system, thermal oil system, electrical control system... As the following picture shows.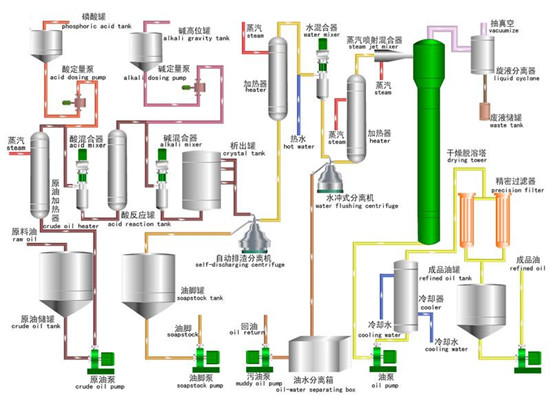 Large scale rice bran oil refinery machine structure chart
The equipment of larger capacity is more complex than that of smaller, which can both be designed by engineers according to customer's requirement.
Next, I will briefly introduce the main equipment of small batch type rice bran oil refinery machine.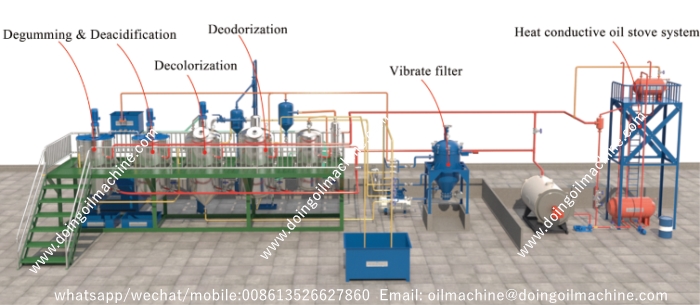 Small scale rice bran oil refinery machine
1. Neutralization pot: For acid refining, alkali refining and water washing.
2. Decolorization pot: Bleach oil and remove pigment from oil.
3. Deodorization pot: Remove odor from oil(Made of stainless steel).
4. Heat conduction oil furnace: Provide heat energy for rice bran oil refineries machine, the temperature can reach 280°C.
5. Vacuum pump: Provide vacuum degree for decolorization and deodorization, up to above 755mgHg.
6. Air compressor: Dry decolorization bleaching clay.
7. Filter press: Filter bleaching clay.
8. Steam generator: Provide steam for deodorization & distillation.
The crude rice bran oil refining process contains degumming, neutralizing, bleaching and deodorizing process. The refined rice bran oil has high quality and is good for long time storage. Besides, the rice bran oil refinery machine can also be used for refining rapeseed oil, cotton seed oil, soybean oil, peanut oil, etc.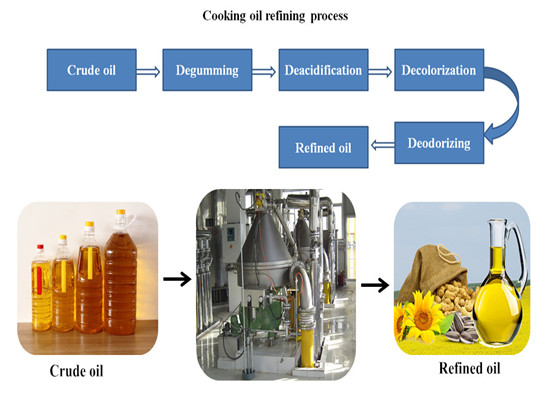 Rice bran oil refining process flow chart
Two parameter tables are attached for reference.
Quality requirements of crude oil:
1.Moisture and volatile matter of crude oil:
≤0.25%
2.Impurity content of crude oil:
≤0.2%
3.Acid value of crude oil(mgKOH/g):
≤7
The higher of crude oil quality, the production consumption will be less, such as alkali, bleaching earth, etc.
Product quality index:
1.Transparency:
clear and transparent
2.Smell and taste:
no strange smell
3.Color(lovibond colorimeter 133.4 slots)
≤R1 Y10
4.Moisture and volatile matter:
≤0.10%
5.Impurities content:
≤0.10%
6.Acid value(mgKOH/g):
≤0.12